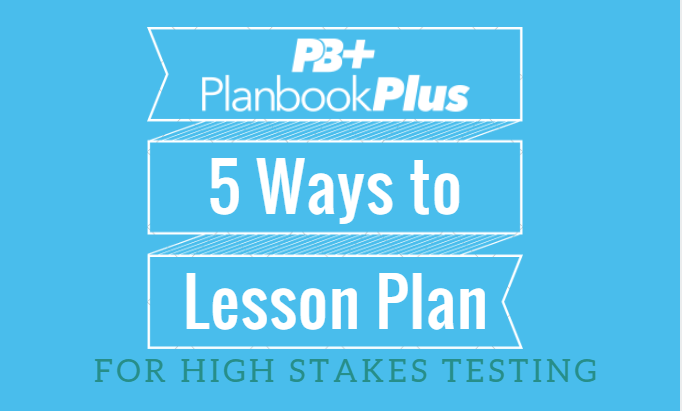 5 Ways to Lesson Plan for Student Success on High Stakes Assessments
Who doesn't like talking about high stakes testing? While educators hope to see it disappear, we all face high stakes testing. Data analysis is driving instruction and teachers are tasked with helping all students improve on the next wave of testing. Additionally, teachers are asked to insure student success by embedding high stakes test strategies into their daily lessons. Where should a teacher start?!
1. Warm Ups
Plan for Warm Up activities that take just 5-10 minutes. Well-designed warm up activities put students on task as soon as the bell rings while engaging their minds. This time allows students to focus, review and prep for the beginning of instruction. Additionally, warm ups provide teachers with the first opportunity to collect formative assessment data. Now imagine that the warm up is in the form of a high stakes test open-ended question or in the same multiple choice format as the exam. Exposing students to the format of the exam allows them to generalize simple yet helpful test-taking strategies when it comes to test day. In Planbook Plus, teachers can even customize an element for the daily warm up.
2. Use Model Responses
The worst feeling is walking around a room full of students taking a high stakes assessment looking like they have no idea where to begin. Fortunately, this awful feeling in the pit of their stomachs can be avoided by more frequently exposing students to the material. Many states provide model responses indicating specific criteria and rubrics. Take time to discuss and assign these examples to students, allowing them to score their own work. Teachers can even attach the model responses in planbook plus and assign to individual students.
3. Draw Similarities
Drawing a similarity between your content area and a high stakes assessment content area makes the content more meaningful. For example, in an architecture class, the teacher illustrates how the algebraic concept of linear functions is used frequently in drafting the clean lines of a sleek building. The similarity may be as simple as pointing out "we will also be seeing a problem similar to this on this year's exam." Simply stating this assists students in putting a red flag on the concept. However, take the next step and discuss how the problem may show up in a different context and format. While planning your lessons, consider customizing a field to compare and align the concepts of your lesson to those of the assessment.
4. Discuss Test Taking Strategies
Even educators forget that students need reminders of the most effective test taking strategies. Further, these strategies are typically discussed the day before the test! Take time discussing strategies as they arise in class. Discuss the importance of showing all work or testing out the answer choices when a problem arises in homework or on the board. When reviewing assessments, offer suggestions on test-taking strategies that helped you! Create an arsenal of test-taking strategies and share it with your colleagues. Better yet, use Planbook Plus and create a list of test taking strategies as an element using the "radio buttons" feature as a reminder to include these during instruction!
5. Keep it Fun
While testing itself is not fun for anyone, it is less fun when graduation depends on it. Take the time to make positive comments to students that help lessen the burden. Students develop a fixed mindset from watching others; teacher negativity regarding the test will not help anyone. Well excitingly shouting "who's excited for the test?!" is not realistic, phrases like "you can do this" eventually sink in to students. Another opportunity for positivity is giving students ownership. When assigning those standards-aligned warm ups, let students track their progress and celebrate their growth!