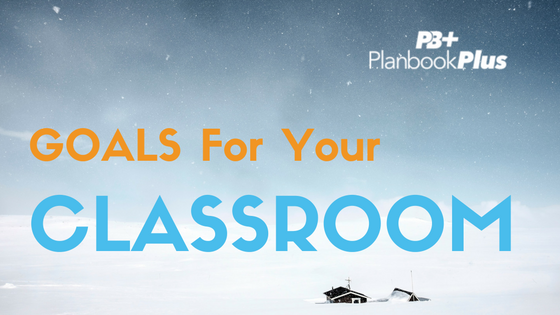 Goals For Your Classroom
December 22, 2016
Effective Lesson Planning
,
Getting Started
,
Holidays
Big Picture
,
Goals
,
Holiday Season
,
Lesson Plan
,
Lesson Planning
,
Objectives
,
Planbook Plus
,
Student Success
,
Teaching Tips
Standard
You made it! Another fall semester is in the books and you can now enjoy your winter break. Hopefully you can go into this time off feeling accomplished. Everyone sets goals for themselves and their respective workplaces and your classroom was probably no different.
I'd wager some of your goals touched on these ideas:
How far ahead were you able to plan your daily and weekly lessons?
Were you able to maintain a good level of organization throughout the semester?
How successful would you say your students were?
How successful were you in keeping them engaged and active in the classroom?
What do you have already prepared for the new year of instruction?
What do you have yet to prepare?
How would you say you honestly performed in achieving your objectives? Great in some areas but lagging behind in others? This time of year acts as a great moment to reflect and evaluate how far we've come in reaching those targets that we set for ourselves. You should celebrate your accomplishments but also set new, challenging goals for yourself and your class to strive for. Let us gift you with the perfect tool in Planbook Plus!
Planbook Plus provides the following support to achieve your goals in the new year:
1000's of Pre-Made Lessons in courses and curriculum
New! Assessment Creator
Achieve your goals as a team by sharing lesson plans with colleagues
Increase student accountability with Student Access
Utilize the Gradebook to track student progress toward goals
The advanced and unique features of Planbook Plus make managing your classroom easier. You'll save time by being able to easily and efficiently create lesson plans ahead of time. Not sure how to fill in some gaps in your daily and weekly plans? We have 1000's of pre-made plans available for you to use! You can quickly work with your colleagues by being able to share your plans with each other.
Plus, just added to our suite of tools is the new Assessment Creator! Now you can save even more time and take control of assessments. Choose from thousands of items in core subject areas. These assessments can serve as practice, classwork, homework, and extra help/credit. They can be graded instantly with direct integration to Planbook Plus's gradebook and calendar.
By taking advantage of what Planbook Plus offers, you can save time planning and spend more time on what you love…teaching!